Take a minute to try out Documill Dynamo (installation-free) - Easy as ABC
Skip the installation and jumpstart document automation trial with Documill Dynamo in its dev site.
Salesforce has become the #1 Customer Relationship Management (CRM) platform. Today, over 150 000 businesses deploy Salesforce CRM as a single source of truth to manage most of their business activities and data.
Among more than 7000 applications specially built to complement the platform, Documill Dynamo provides an easy-to-use document automation solution in Salesforce, which helps Salesforce-powered companies to reach their business goals faster. The SaaS app can boost work efficiency by digitalizing existing manual and repetitive processes that involve creating branded documents, collaborating with stakeholders and e-signing contracts.
In this article (video included), we will show you a quick way to try out Documill Dynamo, without the need for installation and setup. You will get a glimpse of what happens behind the scenes (a template is built in the template builder) and simulate what happens on the stage for end-users (a document is generated in one click of a button and then saved to the respective record).
Target group
We assume you are familiar with the Salesforce ecosystem, either being a Salesforce consultant, developer, CRM manager or process owner, who is looking into a Salesforce document automation solution for your clients or company. Or, you are just curious to check out our Documill Dynamo.
To try out Documill Dynamo on your own, you need:
A Salesforce account, preferably with a system admin profile so that you have sufficient access permissions to objects and fields; and
Basic knowledge about Salesforce CRM and data model as Documill Dynamo maps dynamic data into templates using field API names.
Getting the first touch of Documill Dynamo
So, the video below will show you a nice and quick shortcut to test Documill Dynamo using our pre-made templates, while leaving administration jobs like installation and permissions setup for later.
In other words, you will access the Documill Dynamo template builder, which is a development and testing environment, where document generation workflows can be ran. At the same time, it will kickstart a free 30-day trial of Documill Dynamo for the Salesforce org.
To see how Documill Dynamo generates a document for a record in a Salesforce org, you can prepare a sample record (eg: an opportunity record) and fill in appropriate fields like related products, record details in the screenshot below. You can experiment with this in any Salesforce org of your choice, be it your sandbox, UAT/ developer org, production or self-learning org and so on.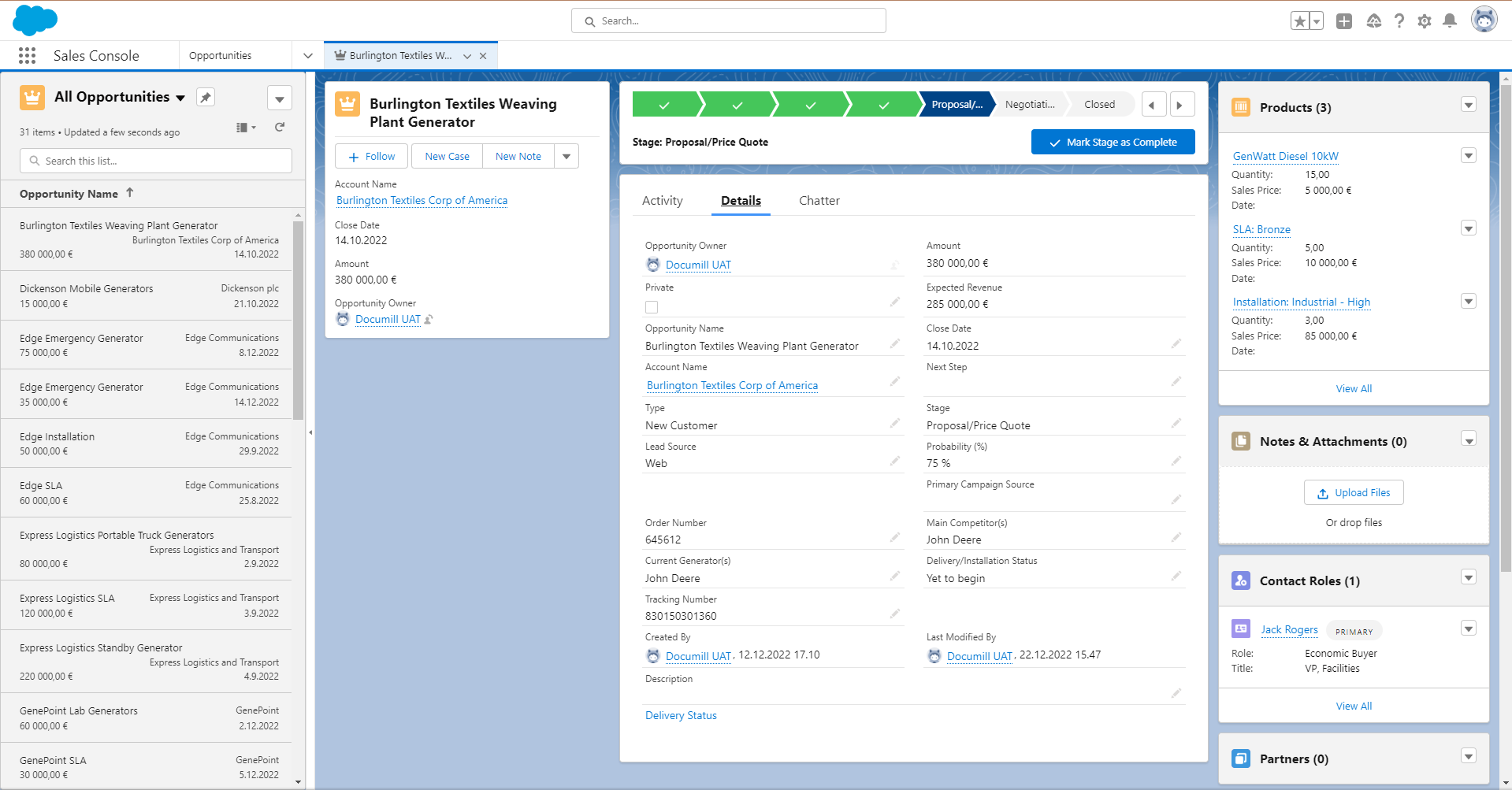 Basically, the video will walk you through the following steps:
Login to Documill Dynamo Template Builder https://dae.documill.com/ using a Salesforce Production or Sandbox account.
Select a pre-made template: e.g.: Simple Quotation which uses Opportunity as the main object; Account Brief and Case Response which use Account or Case objects, respectively. These templates have mapped dynamic fields using API names. Just check them out.
Select a test record: you can either use the search bar or insert a record ID of the record whose data you want to display on the template.
Run the test: Click the Test button and a generated document will be shown to you for review. It will look exactly like the one the end-users see in real life, once the workflow is implemented in Salesforce org. You can save the file if you want!
Once the file is saved, you can refresh your Salesforce org and find the PDF file stored in the record.
The video can be viewed here: A shortcut to Documill Dynamo trial (installation-free)
Conclusion
Documill Dynamo allows you to quickly run a test in its standalone template builder, without the need to install the app in your Salesforce org. You have the freedom to play around with a number of pre-made templates or create new ones inside the template builder within a 30-day free trial period. Documill Dynamo also lets ones do more than just generate PDF or office files. There are possibilities to design customized workflows by adding conditions and logic, user input forms, request approvals, automated document emailing, e-signatures and more!
Documill Dynamo package can be downloaded from Salesforce AppExchange and our documentation will guide you on how to set the application ready in your Salesforce org.
Learn how to make the most of Documill Dynamo trial via our blog and feel free to send us a message at support@documill.com if you have any queries or would like to discuss interesting projects.