Einstein GPT for sales content: what is it really good for?
The creation of sales-related documents and messages is a key lifeline of businesses. Let us look at how Salesforce's Einstein GPT AI can help creating and managing them.
With Salesforce's Einstein GPT artificial intelligence (AI) software now firmly launched, let us look at what this means to a key lifeline of businesses: sales-related documents and messages. 
What are the key use cases? How will our way of working change with it? What are the improvements that we can anticipate – or at least hope for? 
Ok, what is this beast, Einstein GPT?
Einstein GPT is the result of Salesforce integration with OpenAI's GPT (Generative Pre Trainer Transformer) model – the one powering OpenAI's own ChatGPT application. In Einstein GPT, it provides true natural programming (NLP) for sales purposes. 
Certainly there has been a lot of hype about ChatGPT with overblown confidence and expectations. To clear some of the cobwebs, let us start by examining these. The following image by HFS Research has been circulating in social media. It gives an idea about the makings of the hype cycle and what a Large Language Model (LLM) AI like ChatGPT is good for – and what it is not.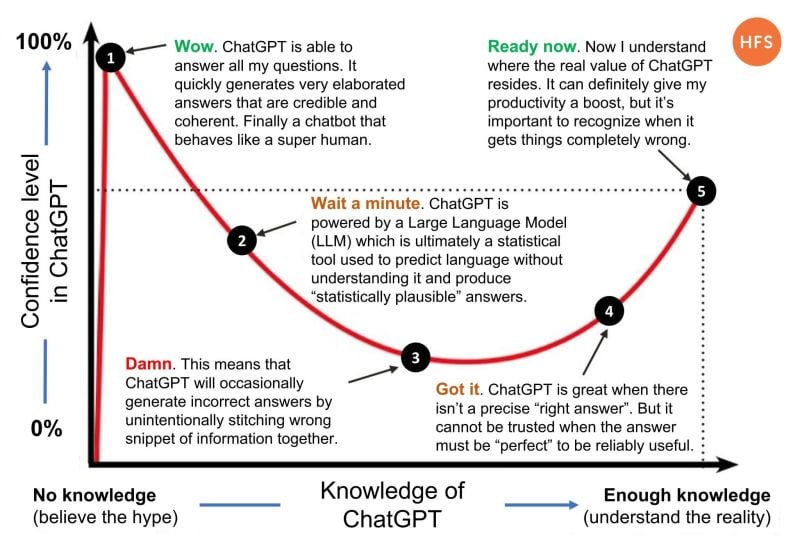 Figure 1. A journey through the ChatGPT hype (image by HFS research).  
What can Einstein GPT do?
What will the OpenAI-powered Salesforce be able to do to start with? Salesforce CEO Marc Benioff has given some initial titbits and they look promising. As it looks, aside of text, Einstein GPT can create a Validation Rule, Formula, Salesforce code just like ChatGPT – and even flows to automate processes, potentially making Salesforce admins happier (if the Open-AI-generated results are good enough, that is). 
When it comes to tasks related to documents and other content, I suppose it is safe to assume that Einstein GPT can do pretty much what ChatGTP can (in fact, it is likely to be capable of even more, since it supports public and private AI models). 

Figure 2. Tasks Einstein GPT can do, according to Salesforce. 
Einstein GPT use cases for sales content
The most suitable Open-AI-powered use cases seem to be as follows. 
Sales and marketing chatbots. No news here. Companies' online chatbots have already been powered by artificial intelligence (AI) to answer common customer questions. Customers can resolve simple concerns quickly, which frees up salespeople for complex, human interactions and strategic work. Einstein GPT can be expected to help enhance the customer friendliness and accuracy of the responses. 
Research and discovery. You were alerted for that new lead and now you need to know what to say to convince her. What are her business pain points? What are the solutions you can offer? Are there any interesting discussion points by people like analysts to captivate her interest and get the discussion going? Can you give indications of the financial benefits your solution can offer? Einstein GPT may help you gather all this data – much, much faster. 
Creating content of messages. Ok, you got your research done and now you know what to say. Let Einstein GPT say it in a style you wish it to have. Let it write your message to the customer, whether in a social media message or an email. At least you may well get a sound first draft to start from. 
Creating document and template content. When making documents, Einstein GPT can come in handy for creating the content just like with the messages already discussed. Even better, Salesforce admins can use the AI to draft templates quicker for generated documents, then revise them and add their dynamic fields in them. 
Reporting & data mining itself. Sales work includes all kinds of data discovery, including reporting. We can expect Einstein GPT to be able to help with some of it. 
Reusing existing content. As a search-based application, Einstein GPT can find previously created content so you will not need to write new. For instance, wealth management company Morgan Stanley maintains a content library with hundreds of thousands of pages of knowledge and insights spanning investment strategies, market research and analyst insights. Housed across many repositories, largely in PDF form, this content is now available for reuse by advisors with the help of OpenAI's GPT-4 release. Expect Salesforce to be able to do something similar. 
Writing clauses & whole contracts. Do you have contracts that require customization for specific customers and thus cannot be automated? Chances are, you will be able to use Einstein GPT to draft at least part of the content – or find it in your existing contracts. However, there are already specialized apps in the AppExchange to do both. It will be interesting to see, how good Einstein GPT's skills turn out to be compared with them. 
Implementing content & branding guidelines. AI is already used for ensuring that marketers' ads convert maximally and comply with brand guidelines. Nestlé, for instance, has used AI to research the key elements that are required for maximum ROI in each of the channels it employs. A system based on the research now checks that the creative assets of 2,000 brands in 200 territories meet those requirements before they are run. Perhaps we will see something similar created for the sales content in the future within Salesforce?  
But whatever you use Einstein GPT for, it is good to bear in mind that sales tasks related to documents can be performed in several clouds: Sales Cloud (obviously), Commerce Cloud, Marketing Cloud and Communications Cloud. We are not fully clear about Einstein GPT's true availability in these, although Salesforce CEO Marc Benioff said it will be "integrated in all of our clouds as well as Tableau, MuleSoft, and Slack". Earlier, leading Salesforce-related blogger SalesforceBen suspected the focus would be initially in Sales Cloud. 
How to use Einstein GPT
In Finland, we have this saying that would go in English: "fire is a great drudge but a lousy farmer". The same applies to Einstein GPT: do not give it control or you may find your wishes just reduced to ashes.  
"Fire is a great drudge but a lousy farmer" (Finnish proverb).
– The same applies to Einstein GPT 
While we could even dig much deeper here, there are three key things to remember when using Einstein GPT. 
Be critical. Einstein GPT will just collect information and put it in a readable format – which it does not understand itself. You will still be left to do your own thinking and fact checking for whatever it feeds you. By the way, it certainly will not hurt, if you keep your Salesforce data tidy, so you give Einstein GPT the best chance to succeed and serve you well. 
Be specific. The question you make to Einstein GPT is really the brief you give. Whatever you ask for, be prepared to define the content, purpose, context and other attributes of your query. To ask the right question is already half the solution to a problem. 
Play piecemeal. You may be looking for information or generating content on a wide topic. You are probably better off getting out something useful, if you ask many Einstein GPT many targeted questions and sequence these into a more or less coherent story. The more details you need, the more you will need to look into different aspects of a topic. 
The bottom line is, Einstein GPT accelerates a manual process but does not eliminate it. You will still have to correct errors, check content validity and accuracy – and do other manual work. If you want to get rid of these drawbacks, you still need to use rule-based automation like document generation and orchestrated workflows, whether provided by specialized apps or Salesforce code and flows. 
Go and use it!
And next? Go and see how to enhance your document creation with a quite advanced piece of AI. Especially when used together with rule-based document generation and automated workflows, Einstein GPT might let you see little miracles happen.