Translating Salesforce product catalog - how's & why's
Documill offers a simple, yet robust solution also for translating Salesforce product catalog, price book names and other content.
Getting your product catalog (or price book) translated in Salesforce is paramount to your business if you need to address segments, even markets that speak a different language to yours. But did you run into problems when trying to do it? No, you are not the only one; due to the design of Salesforce, doing such thing has required some effort.
However, the good news is that Documill Dynamo now offers a simple and quick, yet robust solution for translating this type of content. But before going to its details, let's take a look at how things have been so far.
How do translations in Salesforce work?
Product details like names and descriptions are considered as data by Salesforce and thus cannot be translated using Salesforce's inherent Translation Workbench tool. However, some developers have cleverly come up with a workaround by creating the product names and product descriptions as custom fields in Salesforce, then translating them.
Yet, implementing translations especially in multiple languages has been still time-consuming, as each name and description will make its own custom field. Let alone the main thing: enabling translations in the content that goes out to prospects and customers in their preferred language.
So, enter translations with Documill Dynamo.
The easy way to translate with Documill Dynamo
Documill Dynamo is a document automation app that allows creating documents even with just one click. It enables you to insert product catalog / price book entries in its document templates as dynamic data and then translate them. When you send the document – say, an offer – to your customer, the right language is automatically chosen based on the recipient's language setting in the Salesforce record.
How does it work in practice? You just open the document template, which is shown below, add to it the dynamic field for the products to be included (1) and select the Salesforce object and field it refers to (2).

Then you open Documill Dynamo's new translation matrix in the template editor and add in it the translations of all products (names, product descriptions and so forth) in your catalog that are in any way related to the template (3).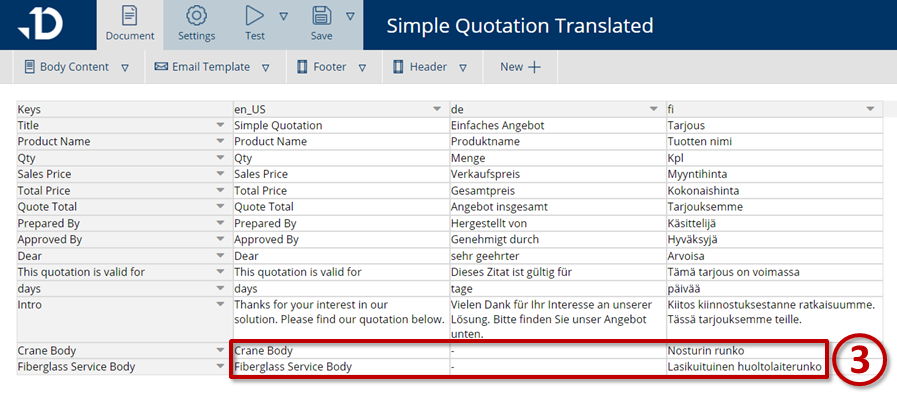 Then you just roll out the template. Now, when a user generates a document, information on the appropriate products (and ONLY the appropriate ones) will be added automatically on it from the Salesforce records, as shown below in English (4) and Finnish (5).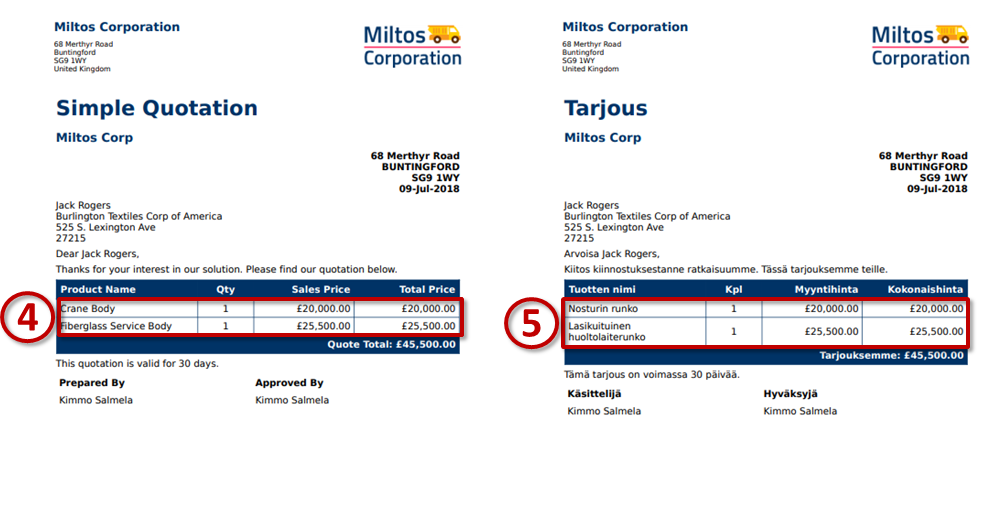 You can do this in as many languages as you need – simple, as shown in these step-by-step instructions. By the way, you can also add a high-quality picture of each product with but a few clicks.
When you have done the translations in one template, you can easily import the matrix to any other Documill Dynamo template.
Five good reasons
So there are a few powerful benefits to doing the translations in Documill Dynamo:
The implementation is much, much quicker and easier
No risk of issues arising from Salesforce customizations, e.g. when the version is updated
Freedom: you do not have to stick to any default translations, like those from the Salesforce Translation Workbench
No limit to the number of languages
All relevant fields can be translated.
Contact us to learn more
Did you get interested? Then why not download Documill Dynamo now and try it out yourself – or get a demo from us!