A practical guide to quicker sales contracting
Learn how to create and approve contracts quicker – and get your business to top health
Contracts are the lifeblood of sales teams. How can you circulate them quicker for approval – and get your business to top health?
Contracts are centric in the sales process. And their volume is massive in most of the sales teams – 80% of sales teams in large and mid-sized companies execute over 500 contracts a month, according to a 2021 study by Forrester Research and DocuSign .
The price of taking even a simple contract from a draft to the final signature is high. For example in the US, it had increased by 38% in six years, to an average of $6,900. The cost for a mid-complexity contract stood at $21,300, while it ran into hundreds of thousands of dollars for a high complexity contract, as observed by Tim Cummins , President of the International Association for Contract & Commercial Management (IACCM) in 2017.
A year ago, AXDRAFT estimated the price of a simple contract at the same $6,900, whereas the complex ones came with a price tag of $49,000.
Given the high costs, the Forrester and DocuSign study found that sales leaders certainly felt the pain – and had acted accordingly. They reported that the top changes made in their teams in 2021 were – apart from changing sales methods (47%) – investing in technology (45%) and redesigning sales workflows (43%).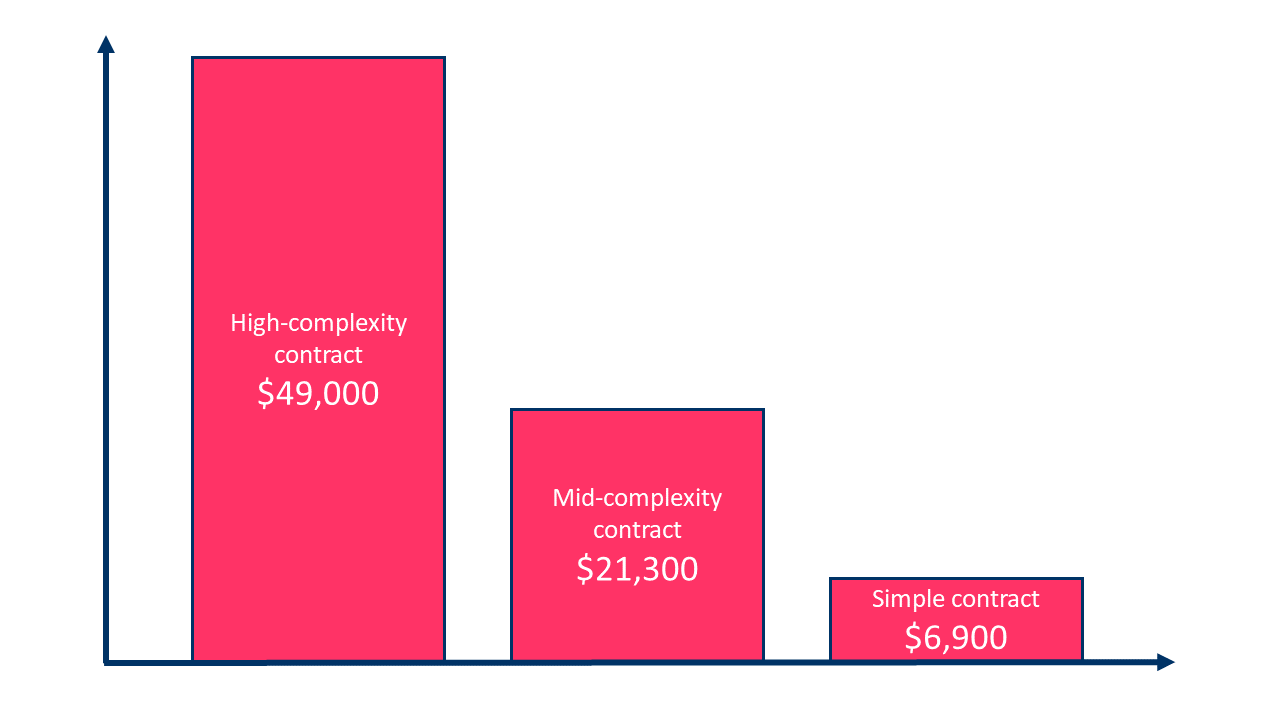 Figure 1. The cost of a contract.
Simplify to win
As contracts play such a pivotal role in the sales process, which approaches to technology would be the best to bring the huge costs down – especially in the future post-COVID world, where online and remote are expected to have become the norm in business relationships?
We think it comes down to deploying down-to-earth technology solutions to simplify, unify and accelerate the contract process:
reducing the number of documents it entails
making collaboration and approvals easier
automating contract creation where possible
bringing all activity on contracting to the nexus of the sales – the CRM.
Use the same document as a proposal AND contract
As we know, from the proposing phase onwards, closing a deal usually happens around three key documents:
proposal issued by the seller
purchase order (PO) issued by the buyer
contract issued by the seller.
Now, are all these documents necessary? Basically, they are just a means to record and present information when the seller states the terms of a deal and agrees upon them with the buyer. Especially when the deal is not complex, wouldn't it be possible to use just one document in the process and make whatever changes are needed in it (if any) in collaboration between the parties until all details have been agreed upon?
In fact, we have been using such an approach for a while at Documill and found it makes everything faster and easier for everybody. As a SaaS vendor, the process starts with a proposal we issue and ends when the proposal is signed by both parties and becomes a binding contract.
Just think about it. If a company executes 500 contracts each month, that will make 1500 documents if separate POs and proposals are created. With a single document, the burden of managing documents drops to one third. Also, less time needs to be spent creating the documents. Effort and time are saved considerably for more productive work – for both the buyer and seller!
Content – what to include?
To make that one single document legally binding across all stages of bidding, it is paramount to include all information required by all parties already in the proposal document.
The details to include are best to agree with your legal department. Consider at least these:
introduction: to whom is the offer, under which circumstances
description of products and services offered, including quantities & prices
applicable terms of the offer, like

delivery time and conditions
payment periods
Post-delivery customer support

consequences of acceptance – especially mention that the offer changes into a binding agreement of a transaction upon signing.
We strongly recommend linking to or attaching a separate standard contract terms and conditions (T&C) document, which covers the terms of the contract in detail.
Another thing to consider is the language you use. Many companies have chosen to remove legal jargon from the actual contract, along with those complex sentences so typical of legal documents (leaving these in the T&C document). When the language is simple and clear, it is easy to write, read and understand properly. Again, time is saved and errors are avoided.
Implementing the single-document solution
How can the single-document approach be put into practice? We think that it is best to bring your process as close as possible to the data to be included in the contract – in other words, inside your CRM. That is how we have implemented the approach at Documill (yes, we fancy eating our own dogfood) – see how it works for us step by step.
This makes the overall contract creation and approval process much simpler and easy to manage. The leading CRMs like Salesforce already have applications that enable implementing such a solution – first and foremost, document automation apps.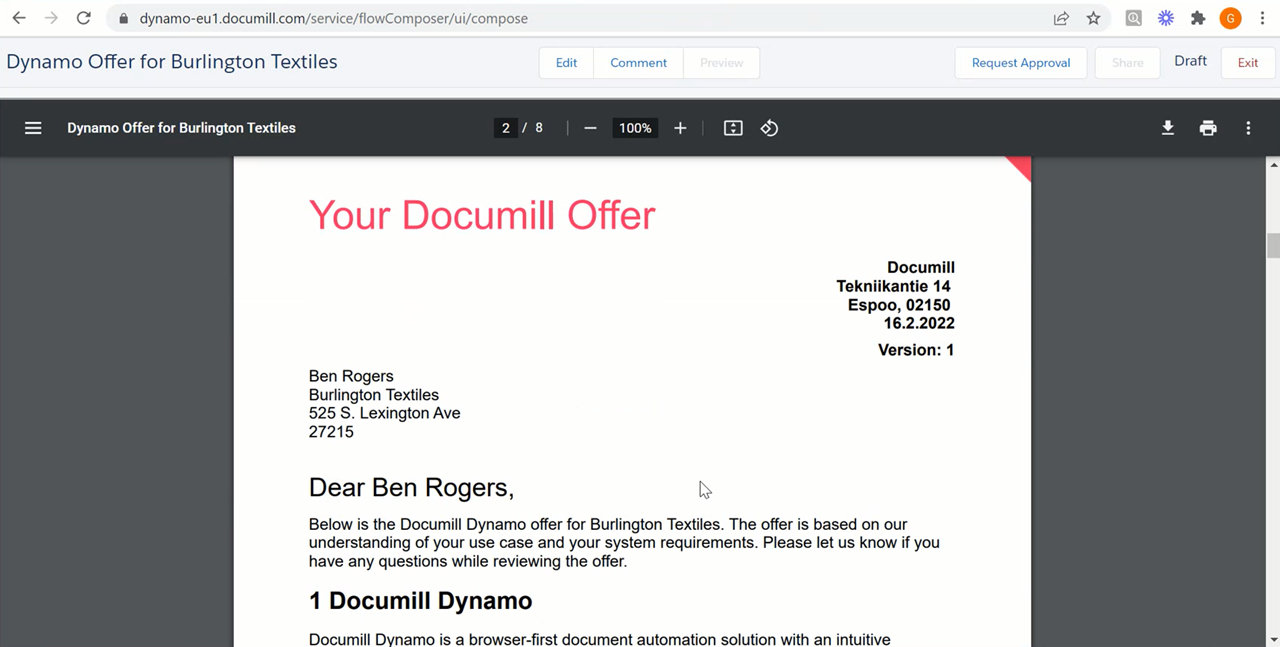 Figure 3. A document automation app in Salesforce generates a contract in a single click.
A good document automation app brings also vital extra benefits:
The offer/contract document can be automatically generated. The transaction-related data can be automatically populated on a standard template. This minimizes the manual work needed. Consistent quality can be ensured and costly mistakes avoided.
Automated document workflows can be implemented, to make the bargaining process easier to manage. These include actionable task alerts to people working on the contract, including those for e-signing and automated delivery of documents via email, for instance. Not only will the contract process be faster; it will also be easy to track and keep under control for good compliance.
E-signing is supported. Approvals and signatures can be collected faster with a simple procedure that saves time and effort from both the signees and those who collect the signatures.
Centralized document management, for example in the CRM's inherent document repository. Features like alerts on upcoming contract expiries and renewals help keep the contracts in order and costs due to failures in managing them down.
In practical terms, Goldman Sachs has estimated that contract automation can:
accelerate negotiation cycles by 50%
reduce abandoned deals and increase completion rate by 58%
cut operating and processing costs by up to 30%.
Simpler and faster negotiation process: go online
Document automation is an unbeatable solution for those businesses, in particular, that have the kind of standardized product or service offering that enables using unified, simple contracts that do not require negotiation. This is the reality for most retailers and consumer businesses in general, including the standard products of banks and insurance companies.
Unfortunately, not all businesses are that lucky. B2B contracts are often much more complicated and need to be negotiated one by one. Indeed, in the aforementioned 2021 DocuSign/Forrester study, 71% of B2B sales teams said their contracts are complex or very complex. The need to customize contract terms was the primary reason. It is a time-consuming effort, as negotiating a contract takes on average 20-30 days, according to Aberdeen Research.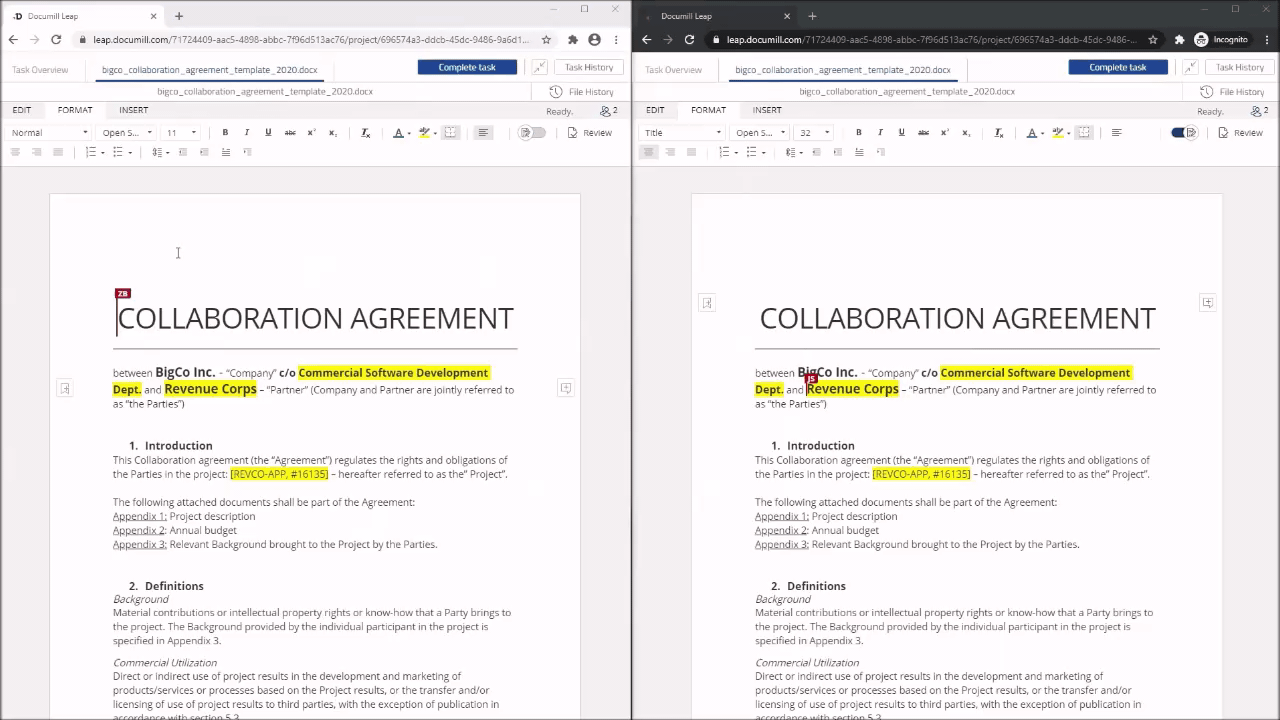 Video clip. The screens of two persons redlining a contract in real time.
Thus, when implementing your contract process in your CRM, it is paramount to ensure that extensive negotiations can also be run smoothly if you have to run them often. To achieve this, the document automation solution can be augmented with a contract collaboration solution, which are available for Salesforce, for instance. This allows running the negotiations right within the CRM, with a toolset built specifically for the purpose.
Such a solution can also be implemented alone without document automation. Its key elements are:
Collaboration interface for connecting the company's internal teams to negotiate with the customer.
Real-time redlining and commenting capability. Each party and team can add comments and edits to the contract in private and reach a consensus, before sharing the changes with the others.
Workflows with actionable task alerts.
Integrated e-signing.
Project status monitoring.
Contract management features, such as alerts on expiries.
The benefits: simple means secure and productive
As we have seen, just in monetary terms the benefits of a simplified approach to contract creation and approval are substantial. Overall, you get a more robust and reliable process that is easier to run and monitor. The benefits are:
boosted productivity
faster closing of deals
easier contract approval and signing
improved quality
guaranteed document compliance
better contract management using workflows tailored to your process.
Feel free to learn how to get your bespoke solution for better business.